Regenerative agriculture
We invest in the future of agriculture to ensure a thriving future for both people and the planet.
Keeping our planet healthy
We're on a journey to advance regenerative agriculture on 1 million acres of farmland by 2030.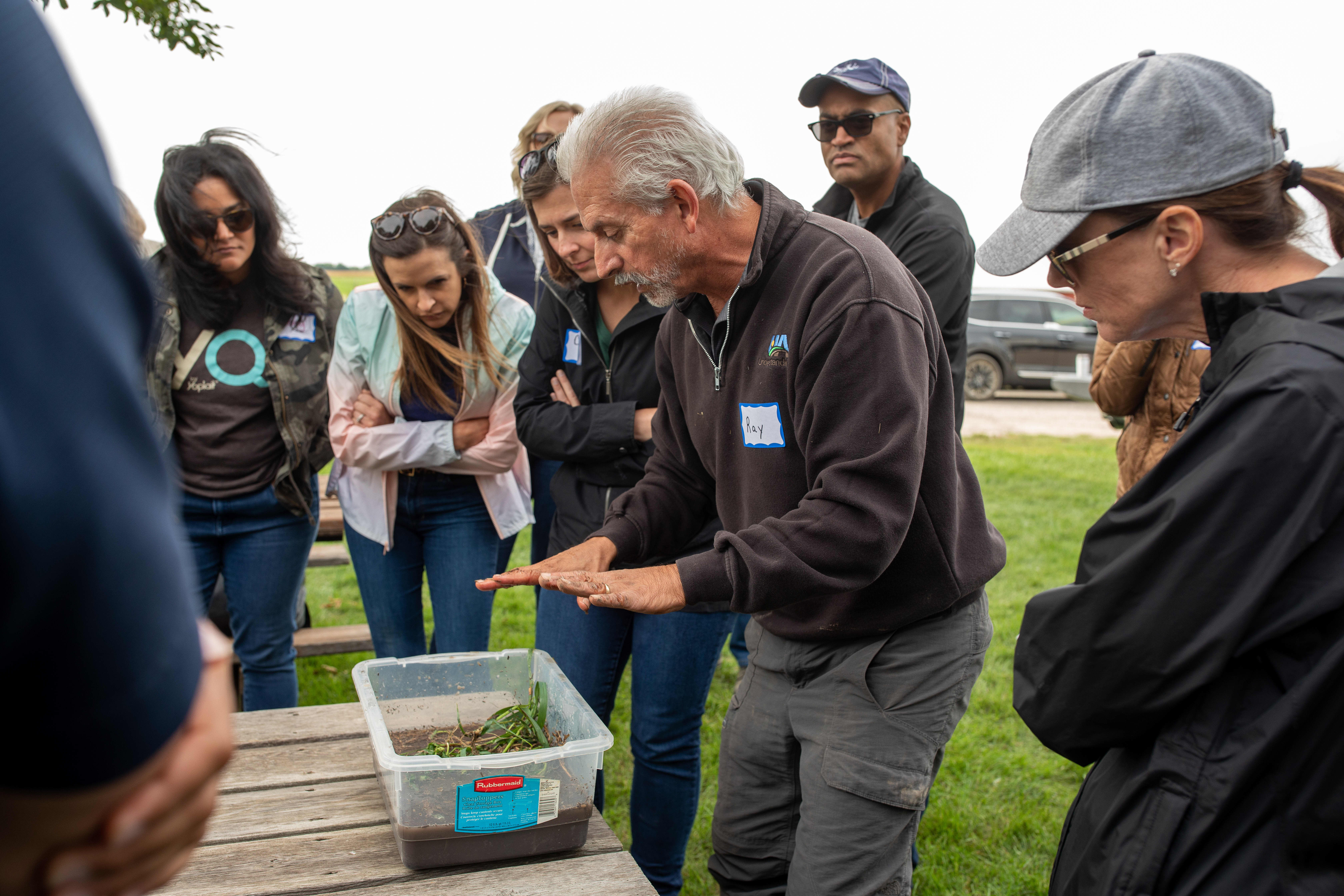 Everything we do is rooted in agriculture
To make food for another 150 years, we depend on earth's resources.
In 2019, we committed to advance regenerative agriculture on 1 million acres of farmland by 2030. This commitment will also help us achieve our climate and water goals:
Reduce greenhouse gas emissions by 30% across our full value chain by 2030
Reach net zero greenhouse gas emissions by 2050
Champion the activation of water stewardship plans for the company's most material and at-risk watersheds in its global value chain by 2025.
With agriculture accounting for around 38 percent of our greenhouse gas footprint, ingredient sourcing remains a top priority. Our voluntary programs partner with interested farmers in key regions where we source our ingredients, such as wheat, oats and dairy, advancing the science and measuring outcomes.
What's regenerative agriculture? It's a holistic, principles-based approach to farming and ranching that delivers positive environmental, social and economic outcomes.
This approach is relevant to all types of farms – large and small, conventional and organic. The principles have roots in global Indigenous agricultural traditions, and we celebrate the land stewards who pioneered and continue to preserve these techniques.
An ecosystem of good
We're looking beyond a single ingredient stream to how the whole farm ecosystem is being managed, and our voluntary programs partner with interested farmers to bring the below regenerative agriculture principles to life on their farms.
Understanding the context: One thing isn't going to work for every farmer, everywhere.
Minimize disturbance: Reduce the amount of chemical and physical disturbance (low-or no-tillage).
Maximize diversity (plants and animals): A way to naturally defend against pests and diseases, while improving soil health and the ecosystem.
Keep the soil covered year-round: We want to keep soil on the farm – it's a central aspect of a healthy farm ecosystem.
Maintain a living root year-round: Soil is alive and needs food to survive – it eats carbon that's photosynthesized by plants out of the atmosphere and pumped below ground. By growing every day of the year, we're maximizing the amount of carbon sequestered to feed the soil and keep it healthy.
Integrate livestock: Integrating grazing livestock wherever possible supports healthy plants and soil.
Measuring outcomes
We believe measuring outcomes is critical to ensure that implementing regenerative agriculture leads to desirable outcomes. When the above principles are applied, regenerative agriculture supports:
Biodiversity: Diversity in plants, grazing animals, wildlife and insects helps improve soil health and build resilience to pests and diseases in farm and ranch ecosystems.
Water: Regenerative agriculture helps maximize water use efficiency and improve water quality, helping to protect and restore clean water in nearby streams, rivers and lakes.
Healthy soil: Soil is critical to our food supply, plays an essential role in our ecosystem and climate, and when healthy, can hold more water, increasing resilience to floods and droughts, and improving water quality.
Herd well-being: Regenerative agriculture includes rotational grazing and feeding cows a diverse mix of crops – both which support cow health. Healthier cows build resiliency back into the whole dairy ecosystem.
Farmer economic resilience: Restoring and enhancing our ecosystem supports farmer productivity and profit, while reducing reliance on external inputs needed to combat pests and diseases.
Our programs
We have different efforts underway to accelerate the implementation of regenerative agriculture principles.
Programs:
We've partnered with Soil Health Academy and Understanding Ag to activate programs in key growing regions. Each program provides farmers with practical tools to implement regenerative agriculture including one-on-one coaching and technical assistance for three years, customized plans for implementation in their operations, soil health testing, farmer networking communities, and biodiversity and economic assessments to demonstrate impact on outcomes over time.
We're also collaborating with leading conservation organizations within these key growing regions – in combination with the above farmer support – to further drive progress in advancing regenerative agriculture principles, including Soil health programs within the Wilkin County, Walsh County, and Kittson County Soil & Water Conservation Districts in the Northern Plains and Oklahoma Conservation Commission farmer-to-farmer mentorship program in the Southern Plains.
We're also working to scale regional impact through a strategic partnership with the National Fish and Wildlife Foundation (NFWF). This collaboration adds a regenerative agriculture focus to existing regional conservation programs – improving soil health and water quality, while also enhancing vital habitat for fish and wildlife. Our NFWF investment is matches at 2.1 ratio by the USDA National Resources Conservation Service (NRCS) and local conservation organizations.
Advancing measurement and technology
As General Mills advances regenerative agriculture on farmland, it believes that measuring environmental and economic outcomes are critical.
Collecting and analyzing farm data can be expensive and labor intensive. That's why we are leading the industry and developing robust scientific methodologies to monitor and study the outcomes associated with regenerative agriculture.
In partnership with numerous scientific organizations, we are conducting farm-level in-depth research on the impacts of regenerative management on soil health and carbon sequestration, water quality and flows, insect and bird biodiversity, and farm economics.
We are also implementing technologies that will allow us to quantify environmental impacts across entire regions where we source key ingredients. Using satellite imagery, we have begun to track changes in agriculture practices such as cover crops and no-till on the landscape over time and model the resulting impacts on metrics like greenhouse gas emissions. We are also developing scalable approaches to monitoring biodiversity across farms, leveraging sensors such as microphones and cameras to detect insects and birds using artificial intelligence.
Research and investments
Our regenerative agriculture commitment is the product of many long-term partnerships and investments in soil health initiatives.
Some of our research partners include:
The University of Manitoba
Colorado State University
The Ecosystem Services Market Research Consortium
Soil Health Institute
Resource Environmental Solutions
The Ecdysis Foundation.
General Mills is a Founding Circle member of the Ecosystem Services Market Consortium (ESMC). In 2020, General Mills and the Kansas Department of Health and Environment (KDHE) launched a pilot with ESMC to measure environmental impacts and pay farmers for soil carbon sequestration, reduced greenhouse gases, and improved water quality. The pilot is a leading example of public and private sectors coming together to quantify environmental improvements and compensate farmers for the environmental benefits they produce through regenerative agriculture.
Learn more about General Mills' actions and progress in regenerative agriculture.
Our work in regenerative agriculture comes to life for consumers through our products.
If you're a farmer and want to learn more about how our plans relate to you, click here.
News & Story Feed
See what we're cooking up 
Get the latest on company and brand news, financial performance, sustainability reports, and more.